Milena Høgsberg is a Danish-American curator, institutional leader and writer based in Copenhagen. Her work reflects an interest in thinking together and facilitating generous art experiences. Her curatorial process emphasizes knowledge production and rigorous self-reflexivity.
As Chief Curator and Head of the Curatorial Department and Collections at Henie Onstad Kunstsenter in Norway (2011-17), she spearheaded the exhibitions program and acquisitions, and helped shape the institutional vision. In addition to organizing seminal solo exhibitions with artists such as Torbjørn Rødland and Ann Cathrin November Høibo, she curated large-scale traveling exhibitions with partnering institutions including Human Space Machine: Stage Experiments at the Bauhaus and Yayoi Kusama: In Infinity. As Director of The Museum of Contemporary Art, Roskilde, Høgsberg oversaw the institution's transition into an itinerant museum: strengthening the organization, establishing new partnerships and setting the curatorial course for future programming.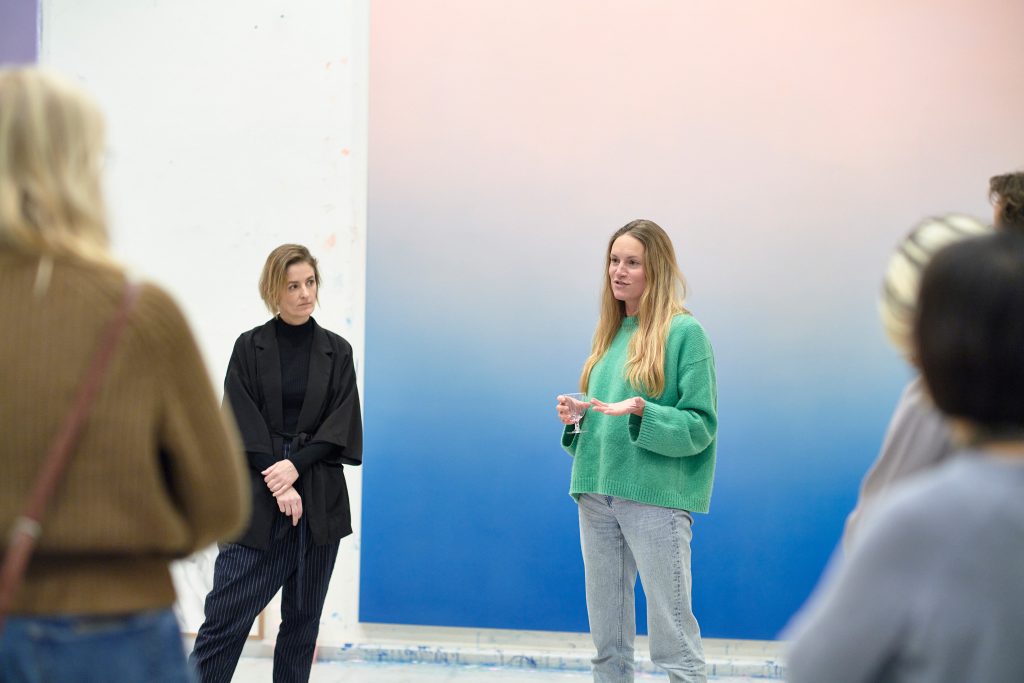 Høgsberg curates large-scale group exhibitions where commissioned artworks are opportunities for collaboration and research. She and Heidi Ballet co-curated LIAF 2017 (Lofoten International Art Festival), a biennial in the Lofoten Islands above the Arctic Circle in Norway. I Taste the Future interrogated how art can open up a space for future modes of knowledge formation in terms of both ecological and geo-political borders. The biennial included month-long performances, screenings, workshops, a talk series and new commissions by artists Adam Linder, Ann Lislegaard, Sondra Perry, Silje Figenschou Thoresen, Eglė Budvytytė, Elin Mar Øyen Vister, Daisuke Kosugi, and Youmna Chlala. Høgsberg also co-conceived, Myths of the Marble with Alex Klein at the ICA Philadelphia. The exhibition considered alternative forms of virtuality that meditate on extensions of the body, ecological formations, and architectural space and that emphasize the time-bound, the perceptual, and the haptic, and culminated in the critical reader Myths of the Marble (Sternberg Press 2018). The show and publication reflected extended conversations with artists Rachel de Joode, Cayetano Ferrer, Ane Graff, Ignas Krunglevičius, Daria Martin, Florian Meisenberg, Shahryar Nashat, Sondra Perry, Jacolby Satterwhite, and Susanne M. Winterling.
As a prolific writer and editor, Høgsberg understands her editorial work as an extension of her curatorial practice. She recently co-published Hilma af Klint: Artist, Researcher, Medium (Hatje Cantz 2020), as part of Moderna Museet, Malmö's major exhibition, which she co-curated with Iris Müller-Westermann.  Høgsberg's sustained dialogues with artists often results in carefully edited publications, among them, Mette Winckelmann: Flags of Freedom (Strandberg 2021) and Lea Porsager: [?!] (Mousse 2020), as well as Living Labor (Sternberg 2013), exploring the time and space of labor and Shaped by Time (Revolver Publishing, 2012), reflecting on artistic and curatorial interventions in the prehistoric collection at The National Museum of Denmark.     
Høgsberg holds an MA from The Center for Curatorial Studies, Bard College and a BA in Art History from Columbia University, New York.