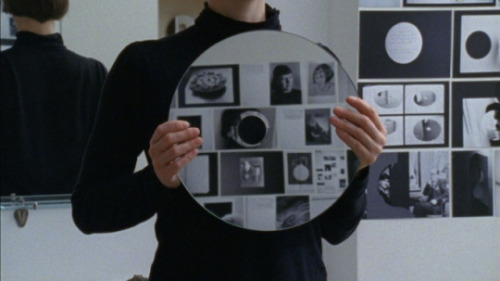 Pia Rönicke Notes on MB
Pia Rönicke's work, Notes on MB (16 mm / HD, 43 min, 2014), is a visual meta-reflection on the artist and Bauhaus designer Marianne Brandt. The core of the installation is a film shot inside the recently restored studio apartment in Dessau where Brandt lived from 1927 to 1929. The film takes its cue from a series of experimental photographs taken by Brandt, in which her reflection in a mirrored ball offers a sequence of distorted self-portraits in the same interior that Rönicke now occupies. In Rönicke 's work, Brandt's photos are tacked up in rows around the walls of the apartment's small living room and work space. They appear alongside detailed shots of archival materials—which bear the marks of Rönicke's hand and framing—as well as Rönicke's own photographic experimentations with the round mirror. The film offers a rare view of the interior of Gropius's oft-depicted and iconic building facade, as the camera unhurriedly and repeatedly pans 360 degrees at different angles, allowing various details of the hung photographs to come into focus.
Drawn from extensive research into Brandt's letters and notebooks, Rönicke carefully scripts a narrative—one that ventriloquizes Brandt's own voice while resisting the possibility of a straightforward biographical reading of her position in history. The narrator—at times partially visible in the frame, reading with her back to the camera—oscillates between English and German, past and present, and between Brandt's words and Rönicke's own reflections. Brandt's personal concerns about proper recognition and insufficient remuneration for her design work echo broader cultural crises: the depression of the late 1920s, the Nazi takeover of Germany, and the Second World War. Insisting on Brandt's gaze, while also calling attention to its disappearance, Rönicke appears in the apartment holding a round mirror in front of her face, giving body and voice to history but resisting the possibility of identification with the artist. Notes on MB makes time and historical space present. It probes both the circumstances of Brandt's artistic production under the collective project of the Bauhaus as well as the formation of identity of the artist, superseding the specificity of that historical moment.