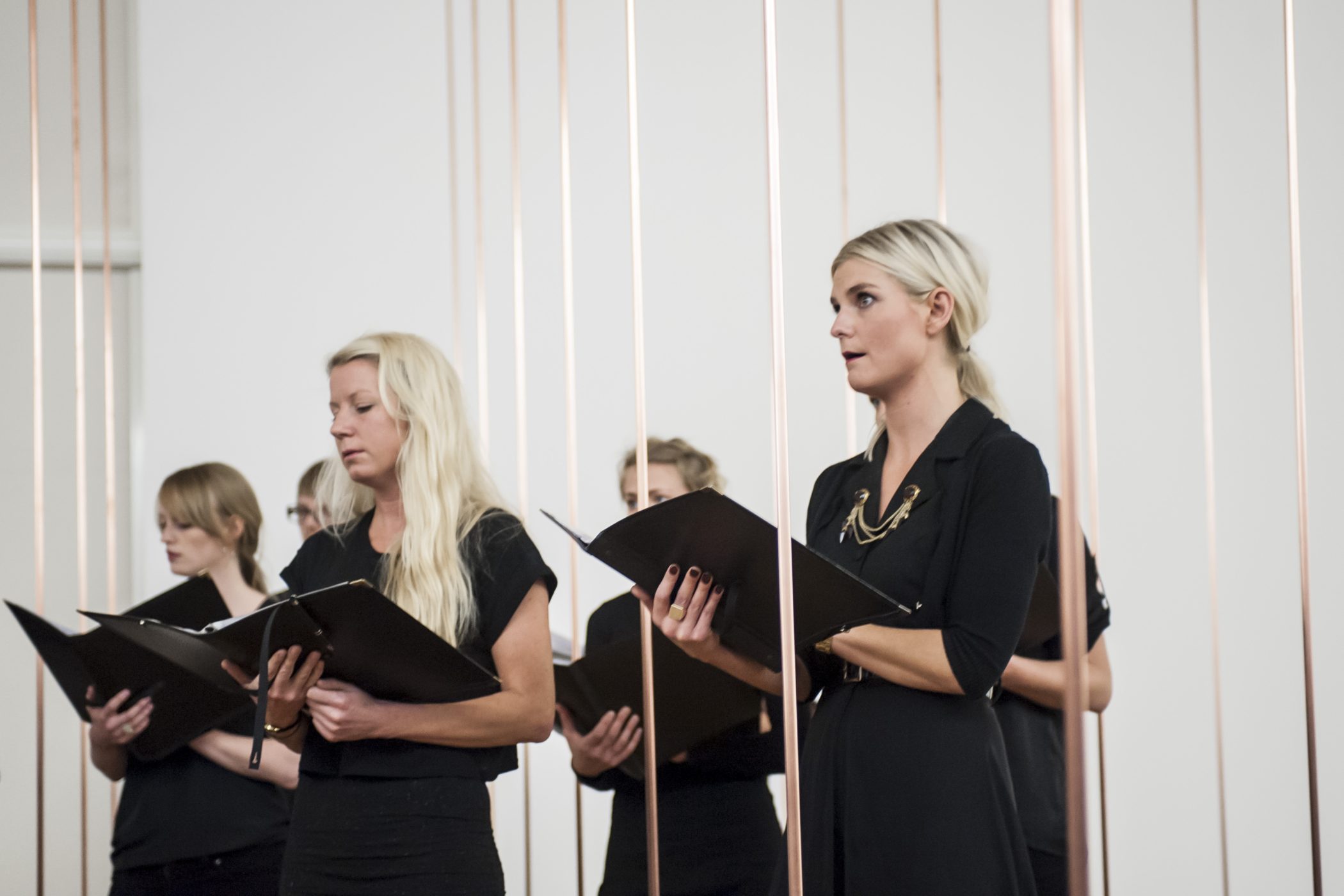 Food for the Moon
This solo exhibition comprises a large scale installation commissioned by Danish artist Lea Porsager. In FOOD FOR THE MOON — Sluggish and Well-lubricated, 2013 Porsager "squirms" her way through Gurdjieff's theories with, as she says, a "certain impoliteness." Inside Henie Onstad's crescent moon-shaped architecture, FOOD FOR THE MOON takes a queer quantum leap away from a human-centric world towards a slug-centric one.
The project centers on Armenian mystic and spiritual teacher G.I. Gurdjieff's sci-fi novel Beelzebub's Tales to His Grandson (or, An Objectively Impartial Criticism of the Life of Man) the first volume of his magnum opus All and Everything. According to Beelzebub, people fed their life energy to the moon in order to keep the moon from going berserk. The novel introduces the Kundabuffer, an organ inserted at the base of humans' spines, designed to keep them from realizing their role in the cosmic economy. Even after removal, the organ would continue to exert its influence, condemning man to lethargy, horniness, and aggressive senselessness.
In the exhibition, Porsager has reimagined the kundabuffers. Cast in bronze polished in different shades of black, blue, and bronze, these sculptural shapes conjure the crystallized organs' post-removal; no longer live organic matter, yet nonetheless biomorphic forms. The crux of the work, and of Porsager's speculations, is a moment in Beelzebub's Tales to His Grandson where humans are mistaken for slugs. Two videos—one of mating slugs and the other the cross-sectioned core of a spinning rope—evoke the notion of kundalini energy rising and that of an electrified moon. The ambiguous nature of the slug is amplified by its hermaphrodite identity; as a "both/and" species, it embodies a potential for spaces beyond dichotomies. Beelzebub's spaceship Karnak, its name derived from the 134-columned Egyptian temple complex, has gone topsy-turvy and become a rigid slug's cradle, a 134-channeled Copper Shock Transmitter.
The tone in FOOD FOR THE MOON is one of speculation and fabulation, and answers to the same objective as Gurdjieff in Beelzebub's Tales to his Grandson, namely to epitomize the notion that insight attained without any effort is completely useless. As Porsager writes in the work's wall-text: "FOOD FOR THE MOON's somewhat stupefied state might suggest that it has been guzzling its own inflamed moonshine. Give way to rigid idiocy!"
As part of the work, Porsager will publish an artist book (forthcoming, December 2013). A small English/Norwegian catalog will be published by HOK, featuring essays by curator Milena Hoegsberg and Carolyn Christov-Bakargiev.
The commission of this work for HOK's collection is made possible by a generous donation form DnB Savings Bank Foundation, Norway.
Lea Porsager (b. 1981, Denmark) was educated at the Royal Danish Academy of Fine Arts and the Städelschule, Frankfurt am Main. In 2008, Porsager was awarded the Montana ENTER Prize for her work LEAP – The Awakening of the Dark Muses. In 2012, she participated in dOCUMENTA (13) with the Anatta Experiment.